Image

Data Powers Everything
A focus on the big picture
We believe that data powers everything we do. Where it used to be harnessed to confirm our ideas, data is now driving decisions in every sector of society, from security to transportation to hospitality – it's even being used to understand how our online social interactions influence business. It impacts everything.

With Houston industries driving economies all over the world, there is an ongoing need for data science research and education to support workforce development and technology commercialization in the region. The Hewlett Packard Enterprise Data Science Institute will play a key role in the creation of a data-savvy workforce to support the region's industrial base, as well as the adoption of leading practices and innovative approaches to support data-enabled decisions at all levels.

The Institute will also serve as a catalyst for basic and applied research, leading to the discovery and commercialization of technologies that will have a transformative impact on economic and social systems.
About HPE Data Science Institute
 

Vision

Delivering research, education and services in data science and scientific computing to the Houston metro area and beyond.
 

Mission

The University of Houston's Hewlett Packard Enterprise Data Science Institute, in collaboration with departments and colleges, leads research, education, and service activities in the broad area of data science and scientific computing and their applications. This includes application areas that are important to the Houston economy: energy and health. Research in data science will range from foundational research in data science and scientific computing to key application areas, including UH Research Thrusts: cyber and physical security, drug development and discovery, sustainable communities and infrastructure and accessible and personalized health care.
 

Goals

The HPE DSI will build collaborative programs with public and private sector partners to advance data science and scientific computing in the metro area and beyond. The HPE  DSI will facilitate research collaborations to increase the competitiveness of UH faculty for research grants. The HPE DSI leads the University's educational focus on educating the current and future data science workforce to gain expertise to function in a data-rich environment through degree programs, non-degree certificate programs, hands-on experiences, and industry workshops. The HPE DSI will partner with colleges to develop community-based programs for middle and high school students to affect the STEM pipeline through coding academies and 'train-the-trainer' programs. The HPE DSI offers resources and services in the form of expertise, hardware and software to other researchers and startup companies across the breadth of disciplines, ranging from the STEM areas to the arts and humanities, law, and public policy.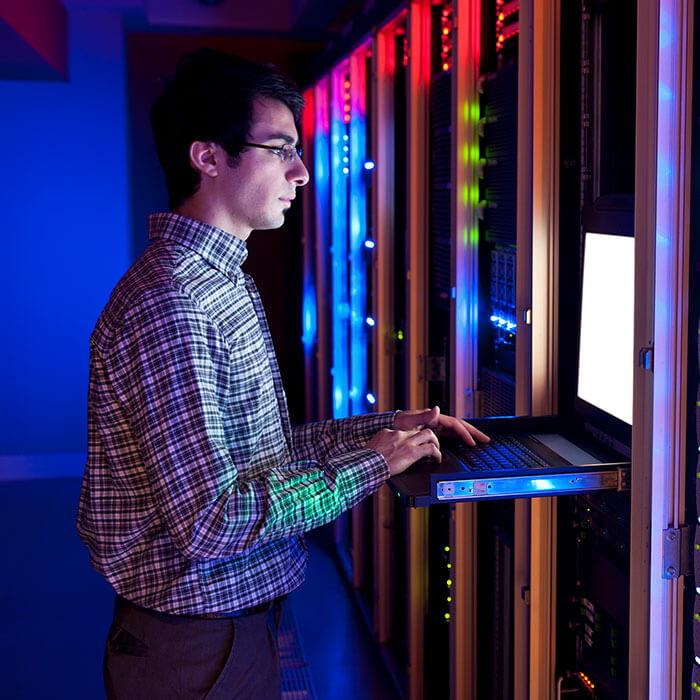 Image Location
Right Column Image
Image Shape
Circular Image
Contact Us
Our office is located in Suite 205 on the second floor of the
Durga D. and Sushila Agrawal Engineering Research Building.
Phone: 713.743.9922
Email: datascience@uh.edu