Q&A With Cougar AI President George Bittar
---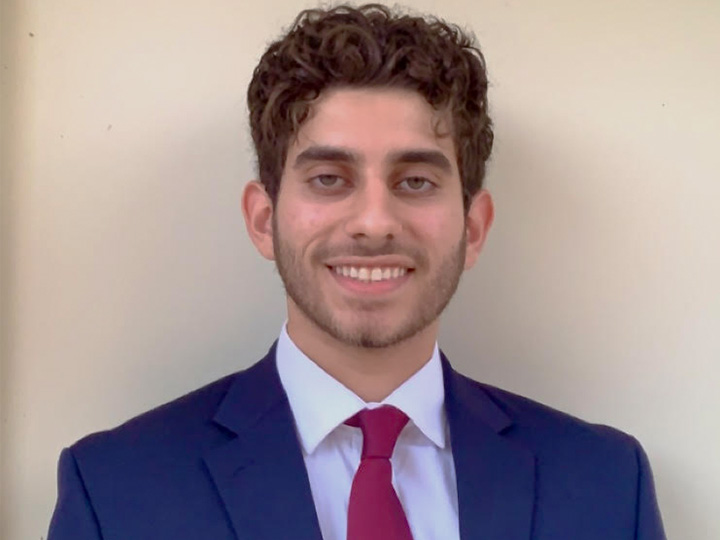 The realm of data science is a challenging yet rewarding field of work. George Bittar found his passion for data science during his time as an undergraduate research assistant at the Structures and Artificial Intelligence Lab (SAIL). Currently a senior at UH, some of his interests not only focus on AI/ML applications, like TinyML, but also involve the advancement of student involvement in data science.
"My passion for Cougar AI is to introduce students to AI, provide a pathway to connect them with resources and to accelerate their involvement and engagement with AI," Bittar said. "I know how daunting the field may seem, but the resources – especially at places like the HPE Data Science Institute – are bountiful and should be utilized by students looking to begin their journey in AI." The director of the HPE Data Science Institute and Vice President for Research Claudia Neuhauser, Ph.D. said:  "It's great to have a student organization focused on this important area. We look forward to working with the new Cougar AI student organization and connecting the students to our courses, education and research opportunities."
He was asked to share the organization's vision and plan for the future.
Isabelle Sitchon, with the HPE Data Science Institute:
What does Cougar AI offer to UH students?
George Bittar:
Cougar AI offers plenty for students interested in AI at the University of Houston. Specifically, we offer general meetings, info sessions, workshops and social events. For example, for our first General Meeting we had Graphene AI as our guest speakers; they were looking for NLP and SWE interns. We have also collaborated with IEEE on a TinyML workshop where we built a wake word detection model similar to Alexa. For the rest of the semester, we have future events planned for guest speakers and coding competitions.
How can students utilize Cougar AI's resources to get involved in the industry of AI/ML?
We offer numerous ways to get involved with AI. For example, we advocate for our members to take free courses at the HPE Data Science Institute, we hold workshops focused on introducing topics and we advertise multiple internship opportunities with the companies we work with. Furthermore, the companies we work with offer helpful insight on where the industry is, in regards to  AI/ML.
Who are some guest speakers you have invited in the past? Who do you plan to invite as a guest speaker?
We have had different faculty give talks about their research of AI at the University of Houston. For example, Vedhus Hoskere, Ph.D., the leader of the Structures and Artificial Intelligence Laboratory at UH, gave an informative seminar about the intersection of Civil Engineering and Artificial Intelligence. As for future guests, we plan on working with Manisha Bhardwaj, a data science leader, who plans to share her career journey and will focus on how data science is a transferable skill set.
Does Cougar AI have plans to create student-led AI/ML initiatives and projects?
Cougar AI feels strongly about student-led initiatives and projects related to AI/ML. Last semester, we held two semester-long projects focused on developing students' skills in AI where they gained experience in topics such as data analysis, data visualization and deep learning.
How do you plan to collaborate with the HPE Data Science Institute?
We plan on collaborating with the HPE Data Science Institute to bridge the gap between students and their knowledge of AI – all the while accelerating their journey in AI. Cougar AI can live under the HPE Data Science Institute umbrella where we can collaborate and continue to bring AI to the forefront of UH students' interest in data science.
---
News Category
Education
UH Data Science News